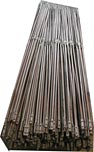 The steel used for all our rods has a high carbon content, (class C nuances EN 10270), and is
therefore very strong. However, if they need to be used in very difficult conditions, such as for example,
stone collectors and beetroot extractors, we make the rods out of special steel, which is capable of
undergoing thermal treatment (hardness: 150 kg /mm2, 55 Si7 type).

We normally use the following diameters:
- 5, 6, 7, 8, 9mm for double rods and 10, 11, 12, 13 and 15mm for others.

Rod for riveting
Fastening of the rods on the belt :
- Links (rods with a diameter of 11, 12, 14). After fitting the link on the rod, it is riveted on
the central belt.


Rod for riveting with link
- Links (for rods coated in PVC, vulcanized or rods for hedgehog conveyors) The open link is riveted
on the central belt. The link is closed after introduction of the rod.

- Flattened, contained (rods with a diameter of 11 and 12). Before being flattened, the rod is contained
which means it is more solid. Consequently, the flattening is wider, thicker and therefore more stronger.
The compressor has been designed to maintain the same strength along the whole length of the rod.

Rod for riveting flattened in the centre
- Elbowed rods : it is possible to supply elbowed rods for special uses. Tell us the type of elbow
(The top or bottom) and the height of the elbow.


Rod (riveting type) with elbow
- Drilling and milling of the rods : to avoid premature wear of the rivets, all our rods are milled, a
means of assembly which results in much greater conveyor life using this assemblage.

- Joining rods : with a diameter of 10, 11 or 12mm, the joining rods enable the closure of the conveyors
using hinges. They are machined according to the width of the rubber belt.


For male and female rods hinge:

Rods hinge junction
A = total lenght
B = machined length
C = lenght
D = diameter
COATINGS
The rods can be coated in polyethylene, PVC or air cushion.
PET temporarily reduces the space between the rods. It is attached to the rod to suit the various
harvesting conditions.

Starred PVC provides cushioning for the harvest during its passage on the conveyor belt. It is fitted
onto the rods before they are riveted (factory assembled).

Air cushion : alveolar rubber, called an "Air cushion" is fitted like the PVC. But as it is only 24mm in
diameter, it provides better cushioning but is also weaker. It cannot be used on stony ground.

Specify whether you want a coating on the flat of belt or with a passage for the gear teeth.

Vulcanized rods : the vulcanized rods are moulded in rubber. They are particulary suitable for the
conveyance of fragile products. Consults us for a list of the lengths that are available.



See the catalog to find BROEKEMA references

Please fill out the form below to receive a quote.
We will get back to you as quickly as possible.
Only the fields preceded by a * are mandatory: (the surname and,
either the e-mail address, the telephone number, or the mobile number)